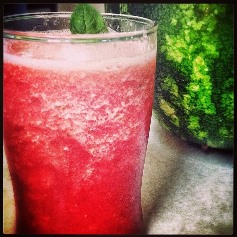 Who doesn't LOVE watermelon, not to mention that the health benefits are amazing!
I introduced you to my dear friend, Health Coach, Author and Speaker Wendi Michelle in past blogs and now she's done it again with this super tasty summertime treat!
On her Facebook page, The Kitchen Approach you will find this fun recipe along with many others that I know you will want to try.
Wendi says, "Did you know that 1 cup of watermelon has more lycopene than 1 cup of raw tomatoes?  Lycopene has been found to activate cancer-preventative liver enzymes and promotes heart health!"
Here is the simple recipe:
1 cup cubed Watermelon
3 fresh basil leaves
1 tbsp. fresh ginger
1/4 cup crushed ice
Directions:  In a blender blend watermelon.  Add in ice, ginger and basil leaves.  Blend until slushy and enjoy!
Do you have a fun, easy and healthful summertime refreshment that you'd like to share?  I'd love to try it!
Visit The Kitchen Approach at:
http://www.facebook.com/thekitchenapproach/