Just over a year ago my brother Greg told me, "Your taste buds are not your buds, they'll kill ya!"
It was a powerful little sentence that got me to thinking.  Am I making food choices based on health benefit, or based on what my taste buds demand?
I don't know about you but my taste buds are like rock stars, they enjoy high energy, go big or go home kinds of foods!  Problem is I often made choices that were unhealthy and packed with sugar, sugar, sugar and processed, processed, processed!  Those bad choices wore me out and left me dragging and exhausted.
I decided to start thinking about what I was going to eat.  It became a challenge to come up with healthy choices when my taste buds were cheering me on to eat junk food! For example, my afternoon snack went from grabbing a fun size candy bar to cutting up an apple and dipping it in a little natural peanut butter.  Breakfast became things like oatmeal with honey and cinnamon and dinner became things like salmon with steamed veggies, and so on.
I made it my mission to cook, bake, create food that was fun, yummy and healthy, it became kind of a game…a game that I've continued to play for over a year now and I feel GREAT!
The Bible says to honor your body as a temple of the Holy Spirit.  "Don't you know that your body is a temple that belongs to the Holy Spirit? The Holy Spirit, whom you received from God, lives in you. You don't belong to yourselves." (1 Corinthians 6:19-20 GW Translation).
Making healthy food choices is one of the ways we can honor God.
Throughout this journey I have driven a very dear friend of mine crazy with phone calls, text messages, pictures of all kinds of foods that I have made and she's been such a great support for me.  Her name is Wendi Michelle.
Wendi is a Health Coach/Author/Speaker.  I highly recommend her cookbook, Effortless Real Food – Taking the Kitchen Approach to Health.  Wendi says, "The Kitchen Approach is a food based approach to health and wellness, it's as simple as that.  Every day foods for every day health."  I LOVE that!
I will be sharing foodstuff on my site and I thought this rice cake recipe would be an easy one to start with.  They are packed with flavor and darned satisfying.  I eat them for breakfast or snack, they're delicious and nutritious.
Wendi says, "It may not look like much but let me tell you, this is one of my all time favs. Quick, cheap and a smidge over 100 calories for 2!  Satisfies my nutrient quota for the morning and is SO YUMMY!!  2 organic rice cakes, sunflower butter, raw honey and cinnamon. BONUS… Cinnamon in the am = balanced blood sugar right outta the gate!"
Btw…adding a few banana slices boosts your intake of vitamin A, C, E and B6, what a fabulous way to start your day!
You can visit Wendi at: http://www.thekitche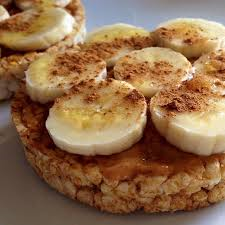 napproach.com/