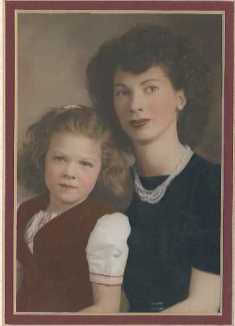 "Our Father loves us too much to let us pass through life without learning to endure."
When I read that this morning I thought about my Grandma Mildred (pictured here with my Mom).
The Merriam-Webster Dictionary defines endure as dealing with or accepting something unpleasant. 
My Grandma Mildred was cold, unfriendly and not a fan of children. She seemed to tolerate me, my sister and brother, I remember her discomfort well. It would be accurate to say that she was unpleasant.
We visited my Grandma about once a month; my parents drove us to her home where we spent a few hours with her. My parents and Grandma visited while my sister, brother and I sat on the floor in front of the television.
My Grandma Mildred never played with me, held me in her lap, or read me a book.  In fact, there were many things she never did with me. She had no patience for children and it didn't take much to annoy her.
I didn't understand my Grandma but I accepted the fact that I had no choice but to endure the time spent with her.
What was it about this woman that caused her to be like she was? I was intrigued by her nonetheless, so when I became an adult I reached out to her and made a date to spend one-on-one time together. After that I made another date, and another, and so on.
As I did this, God began to show me things about her, things that were lost in my young mind but stood out now that I was an adult. I realized that she was at the center of many of my wonderful childhood memories.
For example, she was at every holiday celebration with her yellow ceramic bowl filled with homemade Creamed Corn and a batch of homemade Chocolate Chip Cookies! (LOVED the cookies, hated the corn!). She never missed a holiday and she never came without these 2 staples!
Those monthly visits that seemed like torture at the time? Well, God began to reveal the sweetness of the things my Grandma did during those visits. For example, about an hour before it was time to leave she would call us into the kitchen and give us each a bowl of spumoni ice-cream!
It was at one of those monthly visits that I saw The Wizard of OZ for the first time. I remember sitting on the floor with my sister and brother as we watched with AMAZEMENT at the wonder of it all!
I'll never forget the Easter she showed up at our home with Chocolate Easter Baskets from See's Candies Store, one for each of us kids. The basket itself was made out of chocolate and the chocolate basket was filled with chocolates, it was heaven! Every time I go into a See's Candies Store I think of her.
My Grandma Mildred was always impeccably dressed, with painted fingernails and hair perfectly coiffed, she had this movie star quality about her. She loved her cats and the singer Engelbert Humperdink! There were alligator knick-knacks all over her house and she couldn't pass up a bargain. She is the only person I've ever known who ate her meals without taking a drink until after she'd finish eating.
Yes, Grandma Mildred had a cold exterior but as I got to know her I realized that her interior was quite the opposite. I believe she loved family and actually yearned to be part of the whole.  For reasons unknown to me she was not comfortable expressing emotions of warmth and love but as we spent time together I was able to give these things to her.
I believe that enduring her throughout the years taught me that what you see on the outside isn't always an accurate indicator of things on the inside.
Yes, God loves me and you too much to let us simply pass through this life without learning to endure.
Romans 5:3-4 says, Not only that, but we rejoice in our sufferings, knowing that suffering produces endurance, and endurance produces character, and character produces hope…
I am proud of the relationship I shared with my Grandma Mildred and every special memory we made together. She knew my husband and my children. The last visit I had with her was unlike any other; we laughed so hard and shared so much.
It would have been easy to let go of this relationship, I am thankful that I didn't. God surely blessed both me and my Grandma as I endured with her.
Do you have a Grandma Mildred in your life? What are you learning as you endure this relationship?